Screen printing professionals in La Roche-sur-Yon
TIP is a family-owned company with an industrial culture specialised in performing customisations using screen printing. It was founded in 1978 and set up in La Roche-sur-Yon located in Vendée in the Pays de la Loire region in 1985.
TIP Sérigraphie is primarily:
A team of technical sales representatives located across France and Europe to provide consultations and personalised studies based on your needs.
A textile division - TIP BEYNO has two showrooms to help guide you when choosing your products: one in the Ain region and one in Vendée with consultants available across France to help you customise your creations.
TIP BEYNO textile is also GOTS certified for its entire organic range.
An R&D department which has been dedicated to the development of screen printing for the past 30 years and is at your service for customising your industrial prints.
A design office committed to following specifications validated by R&D.
A finished product logistics department for storing your products which are delivered at the rate you defined at the start.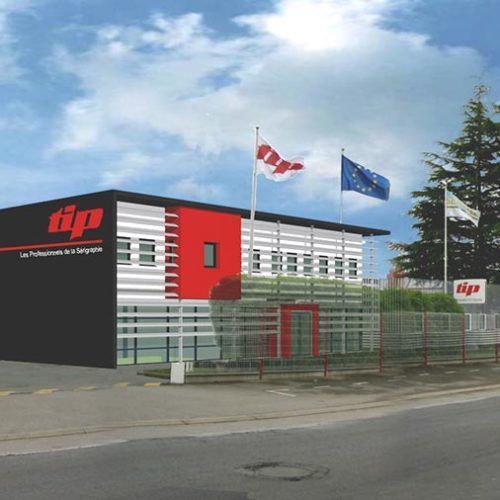 TIP is founded and specialises in foreign screen printing products
The company is set up in the Île-de-France region
The company is set up in Vendée and SERITIP is founded
BSB France is acquired. Aeronautics and armament division
The two companies TIP and SÉRITIP are sold to the current director
An investment and restructuring plan is launched for the two companies, achieving the current result
The R&D department is opened which provides access to different transfer printing markets
A new branch of TIP called TIP BEYNO is set up in the Rhône-Alpes region for large-scale printing
TECNICAS is founded in Barcelona, Spain, and a sales network is established in southern Europe
Two carousels are acquired (manual and automatic) to launch textile operations at the TIP BEYNO site
A new range of textile printing techniques called Enluminographie is created
A second automatic carousel is acquired
Environmental management ISO 14001 certification
The company starts exporting its products accompanied by the R&D department.
Ms Colin and her two sons acquire a holding in the company
OEKO-TEX certification (TIP BEYNO textile division)
Energy management ISO 50001 certification.
Company is among 20 pilot projects nationwide
Invests in a digital machine for textile printing
Second generation takes up the mantle of CEO and CTO
SÉRITIP machine investment
GOTS certification (Global Organic Textile Standard) - TIP BEYNO
(Recovery plan for the four entities following the COVID-19 health crisis)