Industrial printing covers a large number of products and printing options with many technical options available for a single need.
TIP offers a complete range of solutions for industrial printing.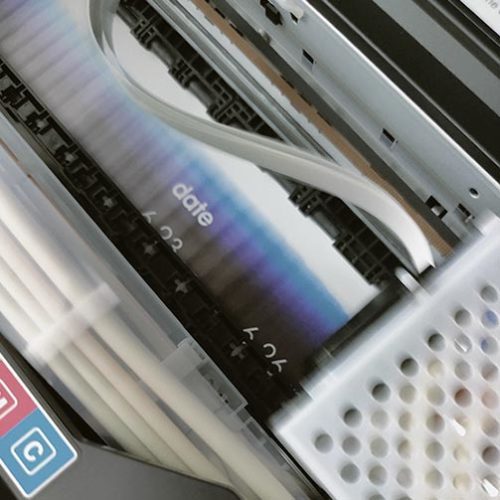 Faceplates or human-machine interfaces
TIP offers faceplates in its FACE-TIP® range for all types of application.
This type of screen printing is performed on the underside of the polycarbonate or polyester material.
Colours remain unchanged over time when used both indoors or outdoors.
Uses Pantone or RAL colours which correspond to your style guide.
Fully opaque even when there is an LED or lighting behind the panel.
We can use a hybridisation of two printing techniques on the same product. Some applications are best achieved through screen printing, such as applications with de-opacifying coatings, secret inks and smoked inks.
Screen printing and the manufacturing of adhesives and stickers are closely related.

Our inks (RoHS standard) enable us to print stickers, adhesives, etc. The technical adhesive film screen printing process produces a heavy ink layer which guarantees intense and long-lasting colour as well as high opacity. In addition, using UV ink allows us to print fine, precise details.
This product is offered for various appearances, surfaces and applications. With this product, a printing surface that has been affixed with the adhesive in advance. It is an adhesive vinyl and is guaranteed to last two to ten years. It can be permanent, temporary, removable, easily removable and even destructible. We can make all shapes of cut and format.
The industry has specific needs when it comes to traceability, signage and engineering:
Ensure traceability via printing numberings, incrementations, bar codes and QR codes.
Using adhesive labels for signage enables you to inform and protect people. They must remain intact in all locations and environments to ensure people understand the information being provided.
Applications: Identification labels for equipment, safety pictograms or user instructions, series number labels, decorating kits for industrial or agricultural machines, signs, lettering, small stickers (logo), window decals, etc.
The bubble label accentuates your communication by rising up from the surface in a bubble shape: a transparent 3D resin bubble is applied on your labels to give your brand a quality, attractive finish.

The prints on these stickers are done using screen printing and digital printing and enable you to obtain a proper 3D sticker that makes your brand pop and gives it a quality look.
All our bubble stickers are made in France with mercury-free resins and in strict accordance with the new regulation that came into effect in 2018.
In addition to creating a 3D effect, this resin makes the sticker resistant to dust, impact, scratches, UV light and weather.
The resin enables you to add volume and appeal to visuals regardless of whether they are rectangular, square or round. These stickers are often used in the automobile industry, cosmetics, communications, packaging, etc.
Applications: Advertising stickers, brand bubble stickers on manufactured products, sticker labels to indicate the ownership of goods and equipment, etc.
Using magnetic boards is an extremely useful means of communication providing maximum visibility and long-term legibility.

Using magnetic signs on vehicles is also an excellent way to promote a product or company.
Magnetic boards are easy to install and remove which allows you to manage temporary and removable advertising.
Customised magnets are communication tools that can be used on all metal surfaces and have great potential in terms of sales and communications.
Applications: Vehicle signs, company communications, customised magnets, temporary advertising on metal surfaces, brand image on scaffolding, etc.
Alveolar polypropylene and expanded PVC panels
Used for indoor and outdoor signage of all sizes. This type of panel allows you to print technical references for both long-term legibility and temporary advertising.
It enables you to communicate the name of the company, to raise awareness about it, to inform and to indicate. It comes in a variety of models and materials (PVC or alveolar polypropylene Akylux) and guarantees a high resistance to both weather and wear and tear.
The customised panel guarantees optimum visibility in line with the company's image. It helps to raise awareness about a product, brand or company. Perfect for displaying promotional materials or event-related signage.
This panel is an essential marketing tool and can be screen printed or digitally printed.
Applications: Worksite panels, advertising panels, roadwork signs, merchandise dividers, Acrobat, etc.